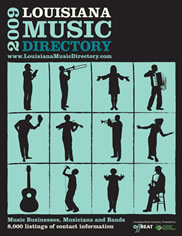 $35 US / $45 Foreign
Includes the 2008 Louisiana Music Power List:
The Most Influential People in the
Louisiana Music Industry
Order your copy of the 2008 Louisiana Music Directory (LMD)® today! The LMD® contains listings for over 7,000 bands, musicians, record labels, fairs and festivals, music attorneys, clubs, media etc., and is "the Bible" of the Louisiana music industry. A must for booking agents and promoters, locating media and record labels, and an invaluable resource for musicians.
You can also view the LMD® online, through a fully-searchable database, which is updated weekly.
For only $35, you receive full access to the LMD® listings on-line for a full year (until the publication of the 2005 LMD) and receive a FREE print version of the Directory too! Each subscriber will be provided with a private access code that allows access to the LMD®. Payment is available via Visa, MasterCard, Discover or American Express through our secure server.
The online database will be updated and expanded (at least) weekly, so you can have the latest information on the Louisiana music industry right at your fingertips!
The Louisiana Music Directory® is published annually in the fall. If it's
music-related and in Louisiana, chances are you'll find it in the LMD®.

2008 Louisiana Music Directory
$35 US / $45 Foreign
or Order by Phone: 504-944-4300
The Business Directory Contains:
Business Industry Services, Education, Musician Products &Services, Media, Recording Services, Recording Production & Distribution, Tour
Services/Venues, Video.
The Music Source Contains:
Listings of bands and musicians by name, with contact information for the band or their manager, as well as a list of bands arranged by musical genre and instrument(s) played, to make finding a particular type of band or musician a breeze.
To Order:
Purchase price is US $35 (domestic orders) and US $45 (foreign orders).
Price includes shipping and handling and online access. To order a copy, send check or money order (drawn on US funds) to:
OffBeat Publications
Attn: LMD
421 Frenchmen St., Suite 200
New Orleans, LA 70116-2056
Or call us at 504-944-4300 to place an order with Visa, MasterCard, Discover or American Express.
Please allow two to three weeks processing time.